Easter Intensive Course 2023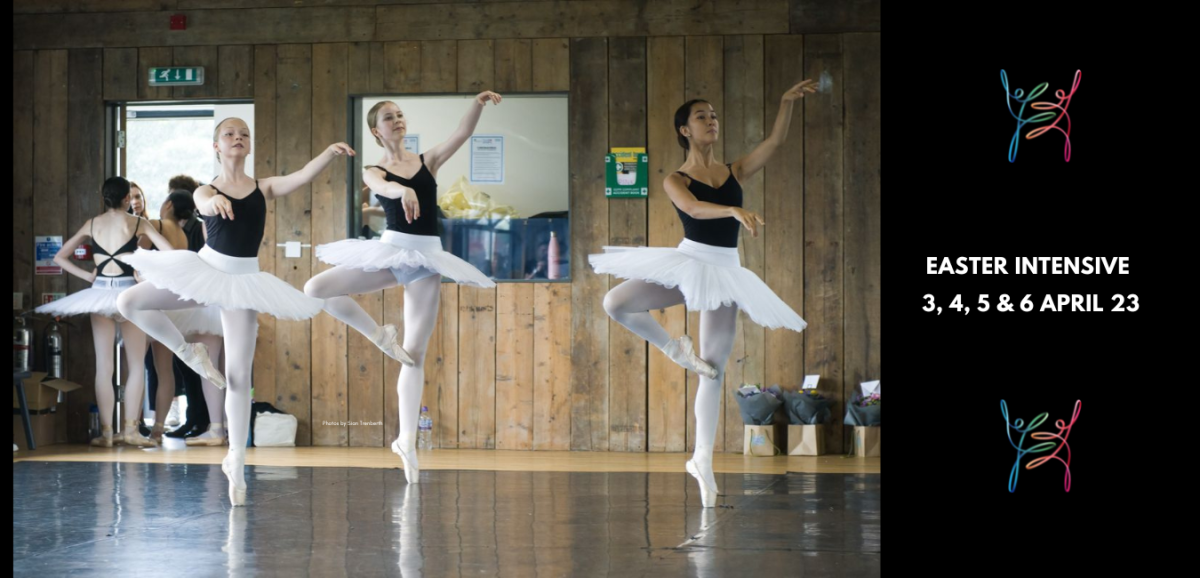 Easter Intensive Course 2023 - REGISTRATIONS OPEN
Masters of Ballet Academy is running an Easter Intensive Course, over four days, for dancers aged 10 to 19 years old in our West London Studios.
Date: 3 to 6 April 2023
Venue: Clubs des Sports
East Acton Lane
London
W3 7HB
Application/Payment Deadline: 15th March 2023
Limited places are available. Applications will be considered in the order in which they are received.
Curriculum
Ballet technique; Virtuosity/Solos for girls and boys; Pointe; Character Dance; Historical Dance (Juniors); Acting for Ballet (Pre-Seniors); Pas de Deux (Seniors); Contemporary Ballet; Floor Barre/Stretching.
Lessons are accompanied by live piano.
How to Apply
Please click the link to fill out the application form.
Once a place has been offered, it will be held for 7 days. If the course fee is not received by then, the place may be offered to another student. Details of how payment can be made will be sent out with the offer of a place.
Our goal is for the students to benefit from the course as much as possible. The Artistic Director will place them into specific groups to achieve the maximum benefit for each student and the group as a whole. The decision is based on the student's ability, suitability for the group, training requirements, and age.
Student Fees 2023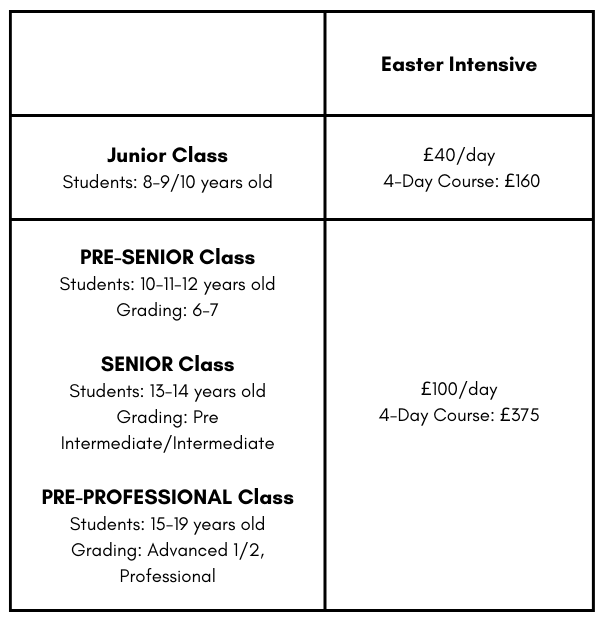 Other information
Students will be placed into one of four different Class Groups (Junior, Pre-Senior, Senior and Pre-Professional). Assignments to groups must be accepted by the students and their parents/guardians. The Artistic Directors can make any changes during the course at their sole discretion.
The training runs from 10 am to 4 pm.
We will send you all the logistical information as soon as you receive the confirmation of your place on the Easter Course.
All students will receive a Certificate of Completion, signed by the teachers.